Things That Could Help You Win a Bidding War on a Home – May 8, 2022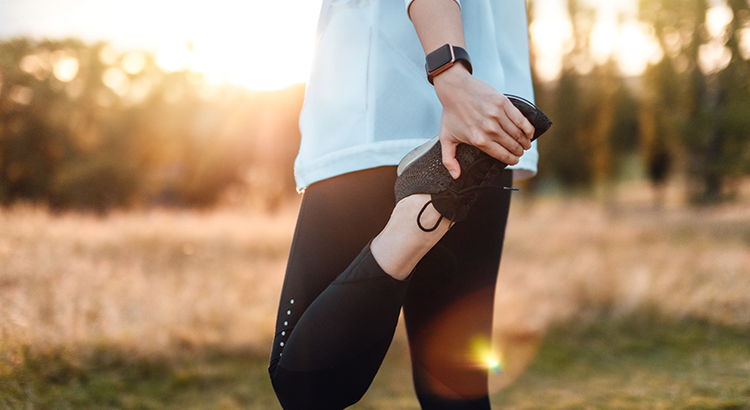 With a limited number of homes for sale today and so many buyers looking to make a purchase before mortgage rates rise further, bidding wars are common. According to the latest report from the National Association of Realtors (NAR), nationwide, homes are getting an average of 4.8 offers per sale. Here's a look at how that breaks down state-by-state (see map below):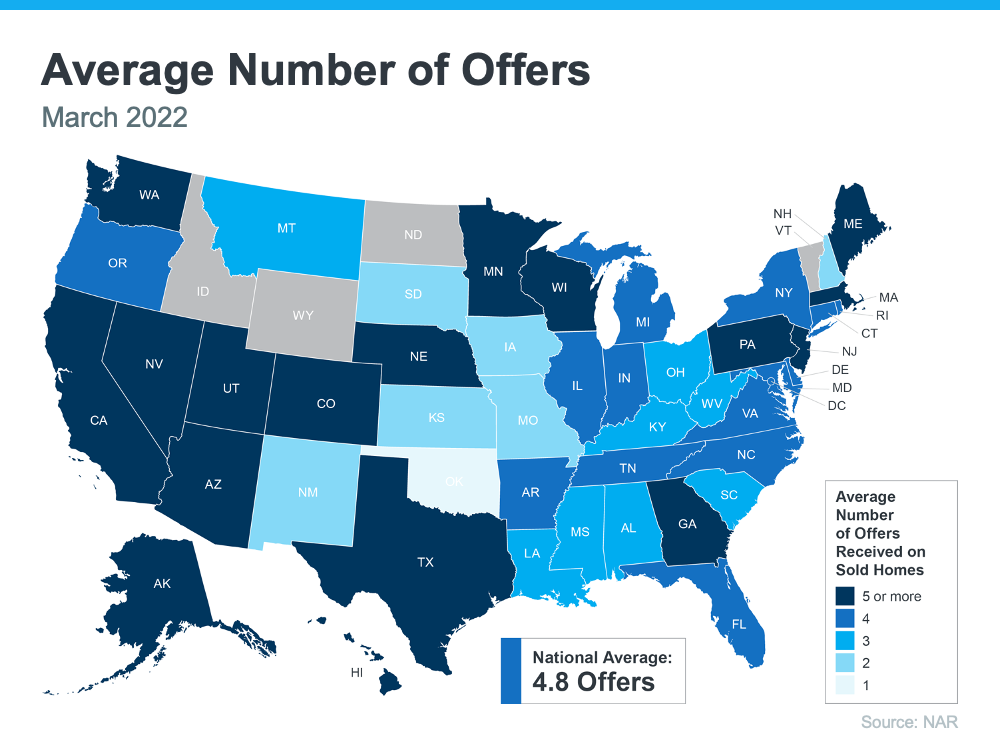 The same report from NAR shows the average buyer made two offers before getting their third offer accepted. In this type of competitive housing market, it's important to know what levers you can pull to help you beat the competition. While a real estate professional is your ultimate guide to presenting a strong offer, here are a few things you could consider.
Offering over Asking Price
When you think of sweetening the deal for sellers, the first thought you likely have is around the price of the home. In today's housing market, it's true more homes are selling for over asking price because there are more buyers than there are homes for sale. You just want to make sure your offer is still within your budget and realistic for the market value in your area – that's where a local real estate professional can help you through the process. Bankrate says:
"Simply put, being willing to pay more money than other buyers is one of the best ways to get your offer accepted. You may not have to increase it by a lot — it'll depend on the area and other factors — so look to your real estate agent for guidance."
Putting Down a Bigger Earnest Money Deposit
You could also consider putting down a larger deposit up front. An earnest money deposit is a check you write to go along with your offer. If your offer is accepted, this deposit is credited toward your home purchase. NerdWallet explains how it works:
"A typical earnest money deposit is 1% to 2% of the home's purchase price, but the amount varies by location. A higher earnest money deposit may catch a seller's attention in a hot housing market."
That's because it shows the seller you're seriously interested in their house and have already set aside money that you're ready to put toward the purchase. Talk to a professional to see if this is something you can do in your area. 
Making a Higher Down Payment 
Another option is increasing how much of a down payment you're going to make. The benefit of a higher down payment is you won't have to finance as much. This helps the seller feel like there's less risk of the deal or the financing falling through. And if other buyers put less down, it could be what helps your offer stand out from the crowd.
Non-Financial Options To Make a Strong Offer
Realtor.com points out that while increasing these financial portions of the deal can help, they're not your only options:
". . . Price is not the only factor sellers weigh when they look at offers. The buyer's terms and contingencies are also taken into account, as well as pre-approval letters, appraisal requirements, and the closing time the buyer is asking for."
When it's time to make an offer, partner with a trusted professional. They have insight into what sellers are looking for in your local market and can give you expert advice on what levers you may or may not want to pull when it's time to write an offer.
From a non-financial perspective, this can include things like flexible move-in dates or minimal contingencies (conditions you set that the seller must meet for the purchase to be finalized). For example, you could make an offer that's not contingent on the sale of your current home. Just remember, there are certain contingencies you don't want to forego, like your home inspection. Ultimately, the options you have can vary state-to-state, so it's best to lean on an expert real estate professional for guidance.
Bottom Line
In today's hot housing market, you need a partner who can serve as your guide, especially when it comes to making a strong offer. Let's connect so you have a trusted resource and coach on how to make the strongest offer possible for your specific situation.
Are You Wondering if This Is the Year To Buy a Home? March 21, 2022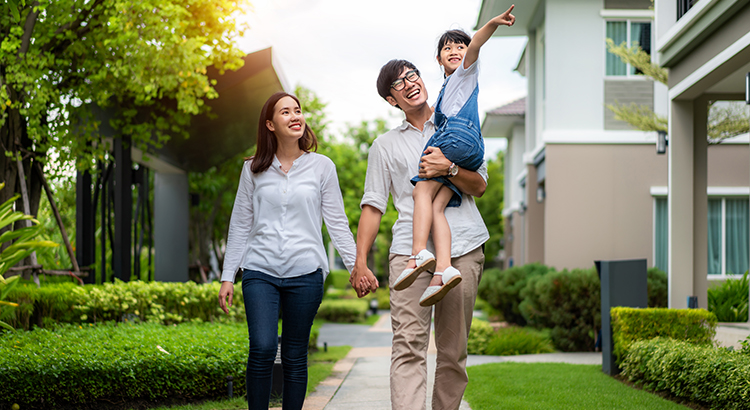 Every year, many renters ask themselves the same question: Should I continue renting, or is it time to buy a home? If you're a renter, chances are you've asked yourself that question at least once, and it's likely because you've faced an increase in your monthly housing costs over time. After all, according to Census data, rents have risen consistently for decades.
To make an informed and powerful decision, the first step is understanding what's happening in today's housing market so you can determine which option is the better long-term financial decision for you.
Rents Are Going Up Again This Year
Rents are skyrocketing right now. Data from realtor.com shows just how much rental prices are surging throughout the country. The graph below highlights rental unit price increases over the past year: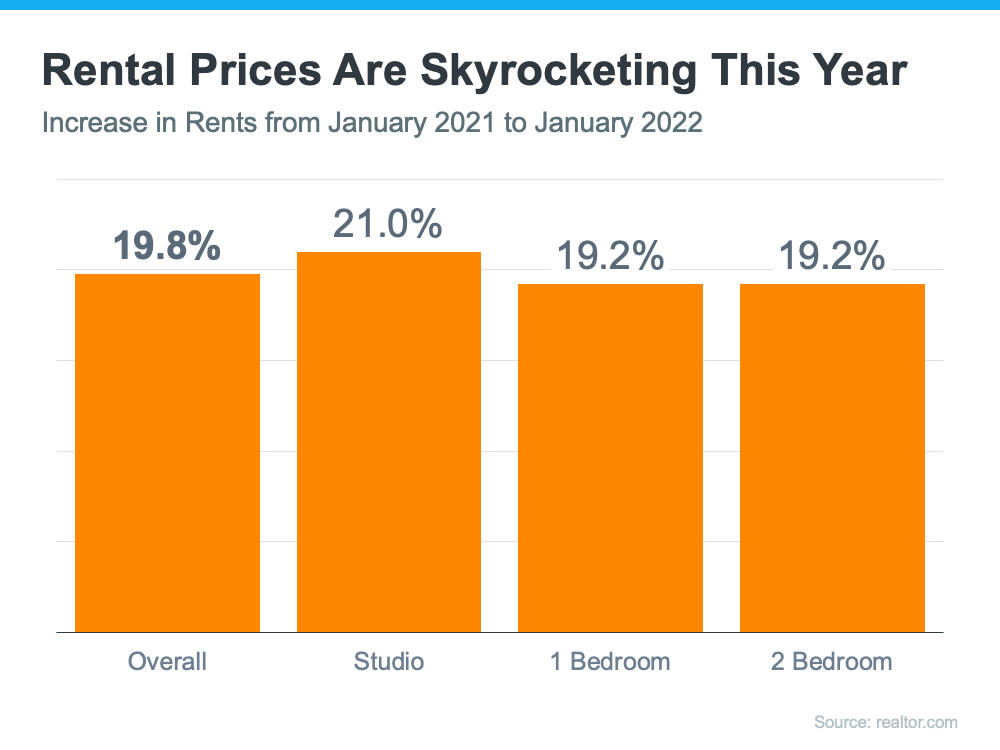 If you're a renter and plan on signing a new lease, your monthly costs are likely to go up when you do. Those rising costs can have a big impact on your financial goals, including any plansyou're making to save for a home purchase.
Homeownership Offers Stable Monthly Costs
Of course, one of the key benefits of owning your home is that you're able to lock in and stabilize your payments for the duration of your loan. That's not the case when you rent.
While rents are already on the rise, there's a good chance many people will see their rental costs increase even more this year. As Danielle Hale, Chief Economist at realtor.com, says:
"With rents already at a high and expected to keep going up, rental affordability will increasingly challenge many Americans in 2022. For those thinking about making the transition from renting to buying their first home, rising rents will remain a motivating factor. . . ."
So, if you're ready to become a homeowner, waiting any longer may not make financial sense. Instead, escape the cycle of rising rents and enjoy the many benefits that come with homeownership today.
Bottom Line
Starting your journey towards homeownership can pay off significantly this year. If you're financially ready today, let's connect so we can discuss your options.
4 Simple Graphs Showing Why This Is Not a Housing Bubble – February 17, 2022

A recent survey revealed that many consumers believe there's a housing bubble beginning to form. That feeling is understandable, as year-over-year home price appreciation is still in the double digits. However, this market is very different than it was during the housing crash 15 years ago. Here are four key reasons why today is nothing like the last time.
1. Houses Are Not Unaffordable Like They Were During the Housing Boom
The affordability formula has three components: the price of the home, wages earned by the purchaser, and the mortgage rate available at the time. Conventional lending standards say a purchaser should not spend more than 28% of their gross income on their mortgage payment.
Fifteen years ago, prices were high, wages were low, and mortgage rates were over 6%. Today, prices are still high. Wages, however, have increased, and the mortgage rate, even after the recent spike, is still well below 6%. That means the average purchaser today pays less of their monthly income toward their mortgage payment than they did back then.
In the latest Affordability Report by ATTOM Data, Chief Product Officer Todd Teta addresses that exact point:
"The average wage earner can still afford the typical home across the U.S., but the financial comfort zone continues shrinking as home prices keep soaring and mortgage rates tick upward."
Affordability isn't as strong as it was last year, but it's much better than it was during the boom. Here's a chart showing that difference: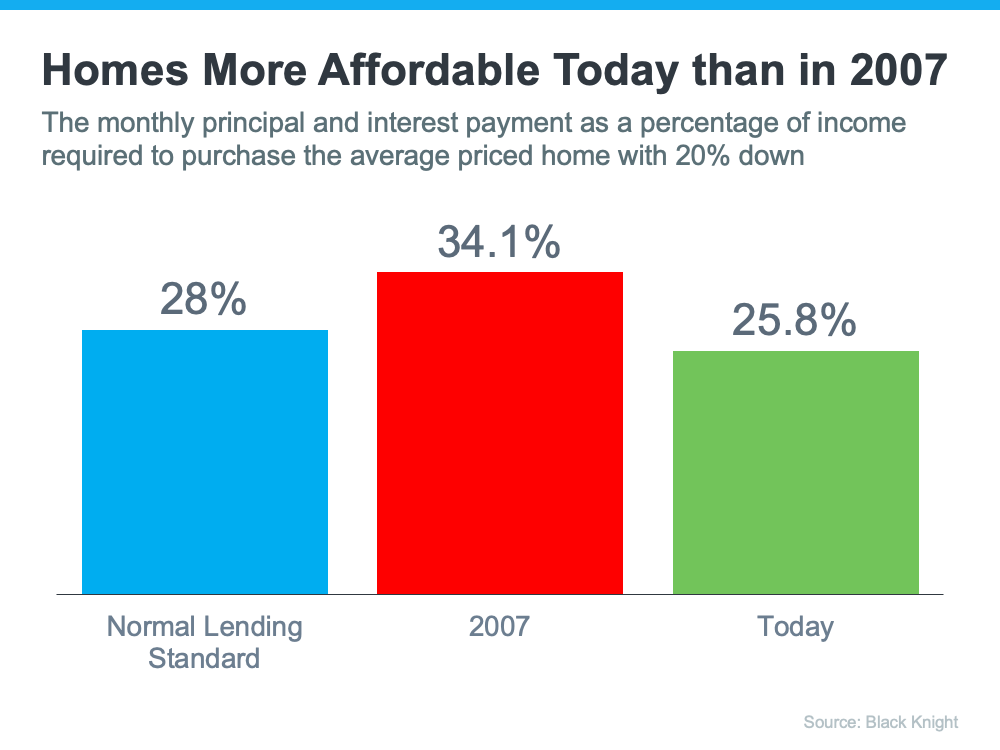 If costs were so prohibitive, how did so many homes sell during the housing boom?
2. Mortgage Standards Were Much More Relaxed During the Boom
During the housing bubble, it was much easier to get a mortgage than it is today. As an example, let's review the number of mortgages granted to purchasers with credit scores under 620. According to credit.org, a credit score between 550-619 is considered poor. In defining those with a score below 620, they explain:
"Credit agencies consider consumers with credit delinquencies, account rejections, and little credit history as subprime borrowers due to their high credit risk."
Buyers can still qualify for a mortgage with a credit score that low, but they're considered riskier borrowers. Here's a graph showing the mortgage volume issued to purchasers with a credit score less than 620 during the housing boom, and the subsequent volume in the 14 years since.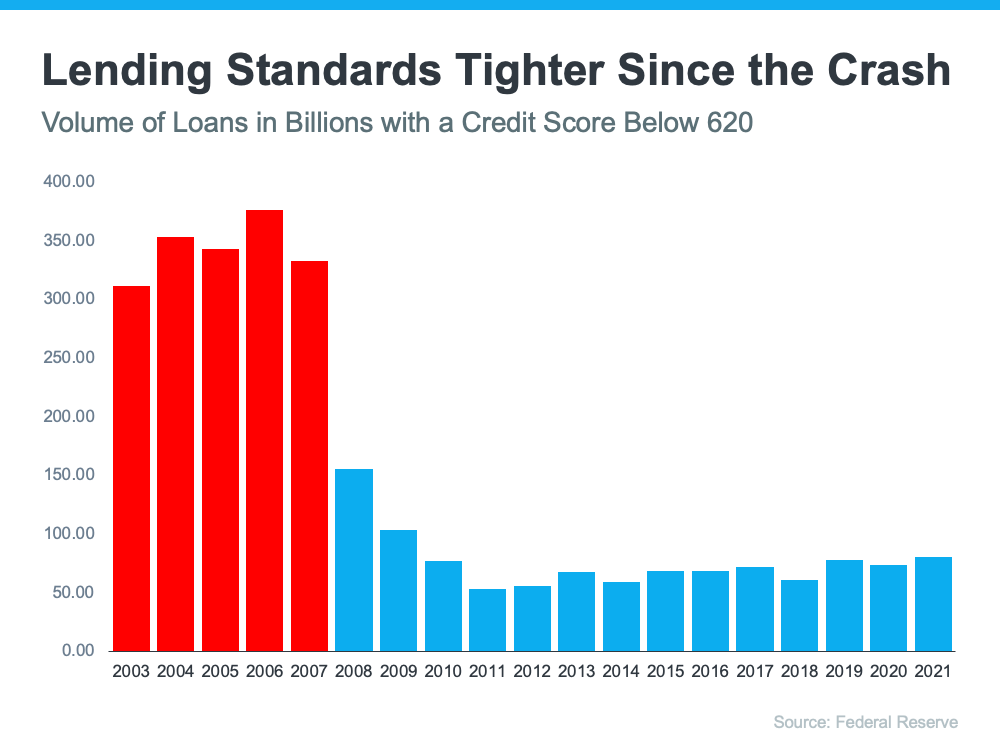 Mortgage standards are nothing like they were the last time. Purchasers that acquired a mortgage over the last decade are much more qualified. Let's take a look at what that means going forward.
3. The Foreclosure Situation Is Nothing Like It Was During the Crash
The most obvious difference is the number of homeowners that were facing foreclosure after the housing bubble burst. The Federal Reserve issues a report showing the number of consumers with a new foreclosure notice. Here are the numbers during the crash compared to today: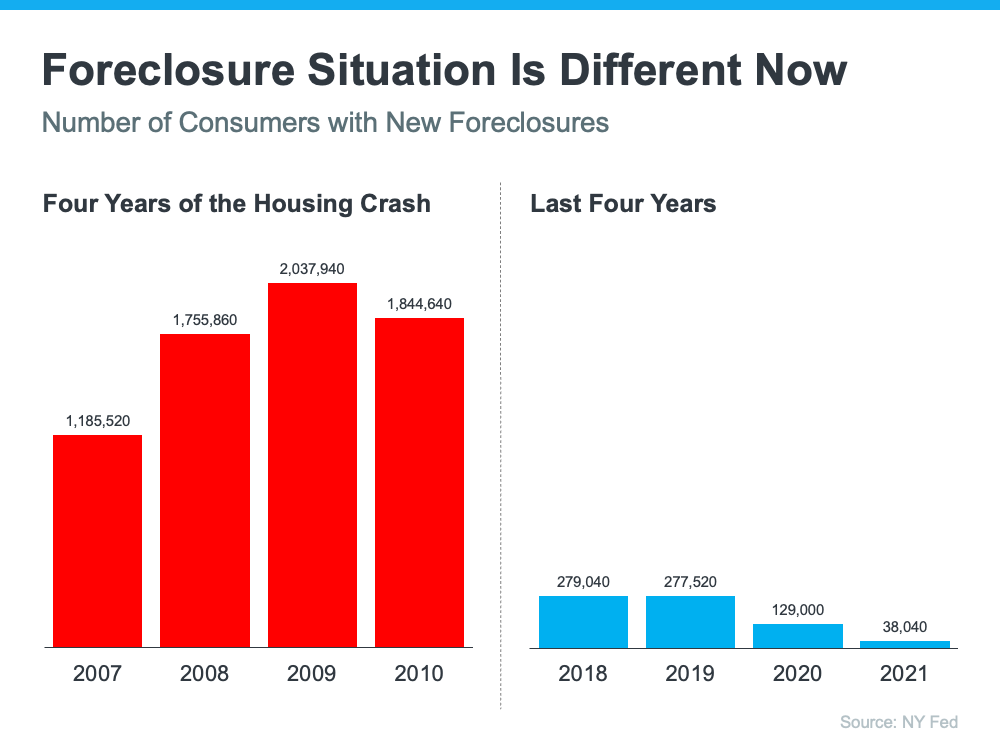 There's no doubt the 2020 and 2021 numbers are impacted by the forbearance program, which was created to help homeowners facing uncertainty during the pandemic. However, there are fewer than 800,000 homeowners left in the program today, and most of those will be able to work out a repayment plan with their banks.
Rick Sharga, Executive Vice President of RealtyTrac, explains:
"The fact that foreclosure starts declined despite hundreds of thousands of borrowers exiting the CARES Act mortgage forbearance program over the last few months is very encouraging. It suggests that the 'forbearance equals foreclosure' narrative was incorrect."
Why are there so few foreclosures now? Today, homeowners are equity rich, not tapped out.
In the run-up to the housing bubble, some homeowners were using their homes as personal ATM machines. Many immediately withdrew their equity once it built up. When home values began to fall, some homeowners found themselves in a negative equity situation where the amount they owed on their mortgage was greater than the value of their home. Some of those households decided to walk away from their homes, and that led to a rash of distressed property listings (foreclosures and short sales), which sold at huge discounts, thus lowering the value of other homes in the area.
Homeowners, however, have learned their lessons. Prices have risen nicely over the last few years, leading to over 40% of homes in the country having more than 50% equity. But owners have not been tapping into it like the last time, as evidenced by the fact that national tappable equity has increased to a record $9.9 trillion. With the average home equity now standing at $300,000, what happened last time won't happen today.
As the latest Homeowner Equity Insights report from CoreLogic explains:
"Not only have equity gains helped homeowners more seamlessly transition out of forbearance and avoid a distressed sale, but they've also enabled many to continue building their wealth."
There will be nowhere near the same number of foreclosures as we saw during the crash. So, what does that mean for the housing market?
4. We Don't Have a Surplus of Homes on the Market – We Have a Shortage
The supply of inventory needed to sustain a normal real estate market is approximately six months. Anything more than that is an overabundance and will causes prices to depreciate. Anything less than that is a shortage and will lead to continued price appreciation. As the next graph shows, there were too many homes for sale from 2007 to 2010 (many of which were short sales and foreclosures), and that caused prices to tumble. Today, there's a shortage of inventory, which is causing the acceleration in home values to continue.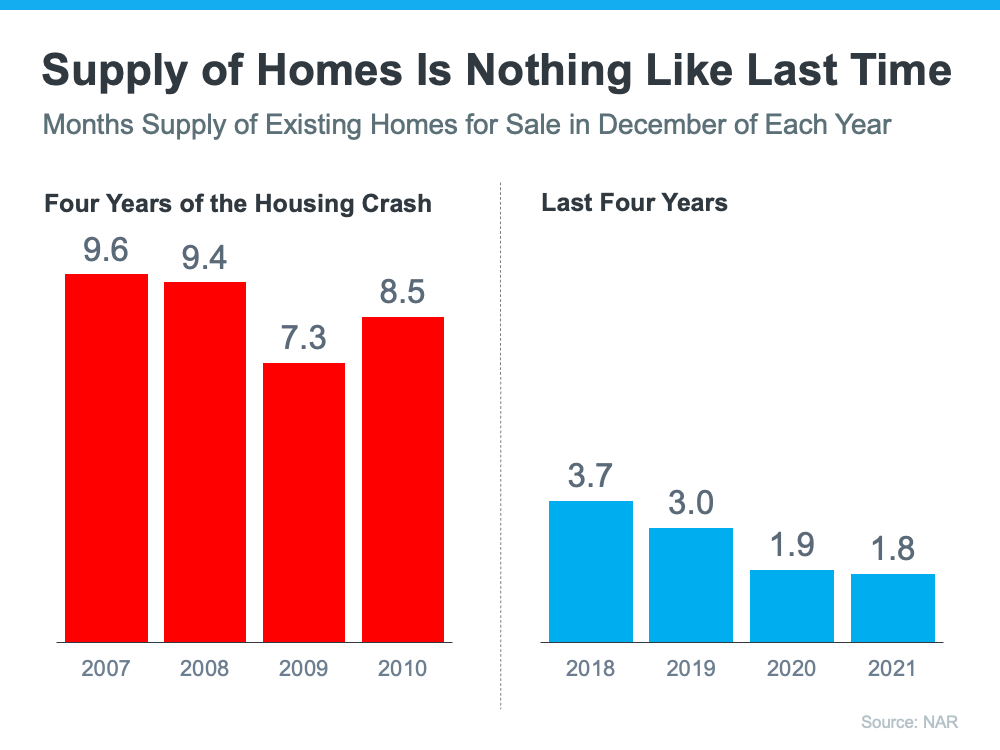 Inventory is nothing like the last time. Prices are rising because there's a healthy demand for homeownership at the same time there's a shortage of homes for sale.
Bottom Line
If you're worried that we're making the same mistakes that led to the housing crash, the graphs above show data and insights to help alleviate your concerns.
Consumers Agree: It's a Good Time To Sell – February 7, 2022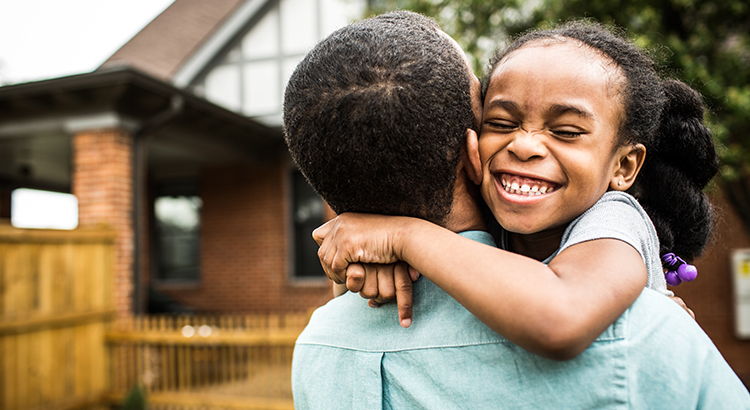 In today's sellers' market, many homeowners are weighing their options and trying to decide if they should sell their house. If you're in that group, you may be balancing things like the ongoing health crisis, rising mortgage rates, and your own changing needs to determine your best time to make a move.
However, recent data shows that time may already be here. According to the latest Home Purchase Sentiment Index (HPSI) by Fannie Mae, 76% of consumers believe now is a good time to sell.
Looking back over the past few years, its clear consumers are incredibly optimistic today. The graph below shows the percent of survey respondents who say it's a good time to sell a house, and their positive outlook is on the rise. The big dip near the middle of the chart indicates how consumer sentiment about selling dropped at the beginning of the pandemic as uncertainty about the health crisis and its impact grew. The good news is, the trend today shows a continued, drastic improvement, and people are feeling more and more confident with time about selling a home.
In fact, survey respondents think it's an even better time to sell a house today than they did in the lead-up to the health crisis. The latest survey results indicate we're at one of the strongest peaks in seller sentiment since March of 2019, hitting highs when 77% of people thought it was a good time to sell only twice before in June and October of 2021.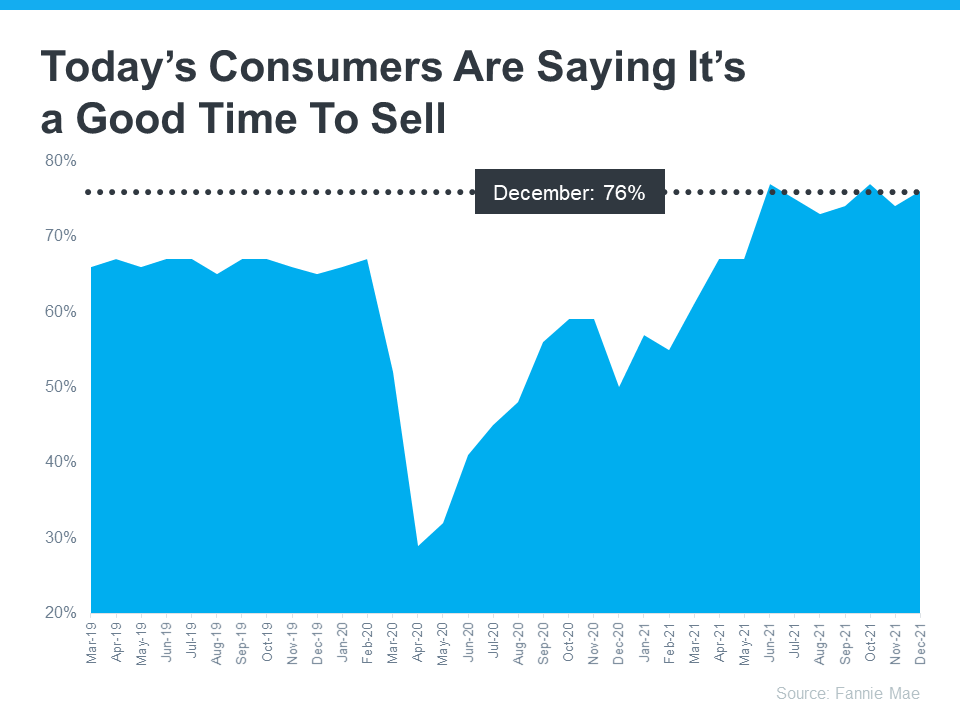 Why Are Consumers So Optimistic About Today's Housing Market?
From record-high equity gains to record-low housing supply and significant buyer demand, homeowners have more motivation than ever to sell. There are more buyers in today's market than there are homes for sale, and that's driving home prices up, making it a great time to sell your house.
According to the National Association of Realtors (NAR), the current supply of homes for sale today is at a 1.8-month supply, which is an all-time low. When the supply of homes for sale is low, sellers will likely see more offers, which is exactly what's happening right now. As NAR notes:
"The average home for sale is receiving 3.8 offers today, up from 3.3 offers just one year ago."
Bottom Line
With the inventory of houses for sale so low today pushing home prices in an upward direction, it's no wonder consumers think it's a good time to sell. If you're ready to take advantage of today's favorable sellers' market, let's connect today.
Why Your Home Inspection Matters [INFOGRAPHIC]
Some Highlights
Buying a home and wondering if your inspection is necessary? While some buyers may decide to waive their inspection, it's risky decision.
Your home inspection is a crucial step in the homebuying process. It assesses the condition of the home you plan to purchase, so you can avoid costly surprises down the road.
Let's connect so you have expert advice and a trusted professional who will keep your interests top of mind.
4 Tips to Consider if You are Planning to Sell.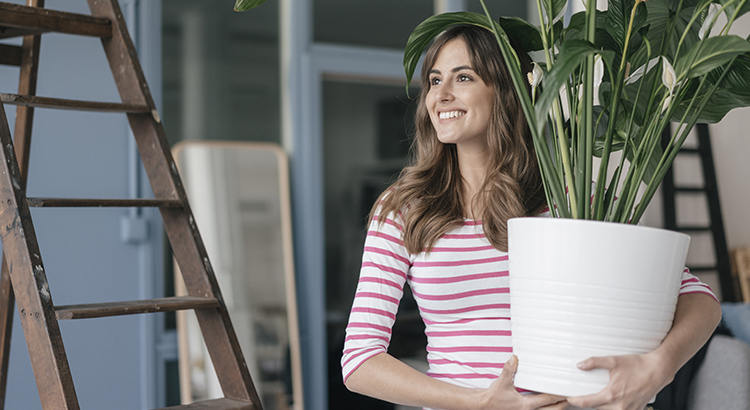 Even in a hot sellers' market like today's in which homes are selling so quickly, it's still important to make a good first impression on potential buyers. Taking the time upfront to prep your house appropriately can bring in the greatest return on your investment.
Here are four simple tips to make sure you maximize the sale of your house this fall.
1. Price It Right
One of the first things buyers will notice is the price of your house. That's why it's important to price it right. Your goal in pricing your house is to draw attention from competing buyers and let bidding wars push the final sales price up. Pricing your house too high to begin with could put you at a disadvantage by discouraging buyers from making an offer.
Your trusted real estate advisor can help you find the price for your home that reflects the current market value. Lean on your agent to help you with this crucial first step.
2. Keep It Clean
It may sound simple, but keeping your house clean is key to making sure it gets the attention it deserves. As realtor.com says in the Home Selling Checklist:
"When selling your home, it's important to keep everything tidy for buyers. . . . Remember to take special care with the bathroom, making sure the tile, counters, shower, and floors shine."
Before each buyer visits, assess your space and determine what needs your attention. Wash the dishes, make the beds, and put away any toys. Doing these simple things can reduce any potential distractions for buyers.
3. Make It Easy To Visit
Giving buyers the opportunity to see your house on their schedule can be a true game-changer. Buyers are less likely to make an offer if it's difficult to plan a tour or they can't easily fit it into their schedule. Making your house available as often as possible helps create opportunities for more buyers to fall in love with your house.
Rest assured your trusted real estate advisor will keep your health and safety top of mindwhen buyers tour your home. Agents use the latest guidance to stay up to date on any protocols and sanitization recommendations.
4. Help Buyers Feel at Home
Finally, it's important for buyers to see all the possible ways they can make your house their next home. As the realtor.com article puts it:
"The goal is to create a blank canvas on which buyers can project their own visions of living there, and loving it."
An easy first step to create this blank canvas is removing personal items – pictures, awards, and sentimental belongings – from your space. If you're unsure what should be packed away and what can stay, consult your trusted real estate advisor. Spending the time on this step can pay off in the long run, as the 2021 Profile of Home Staging from the National Association of Realtors notes:
"Eighteen percent of sellers' agents said home staging increased the dollar value of a residence between 6% and 10%."
Bottom Line
To make the most of today's sellers' market, avoid the temptation to skip over the essential preparation steps. Let's connect today to discuss all the ways you can maximize your home sale.
What You Should Do Before Interest Rates Rise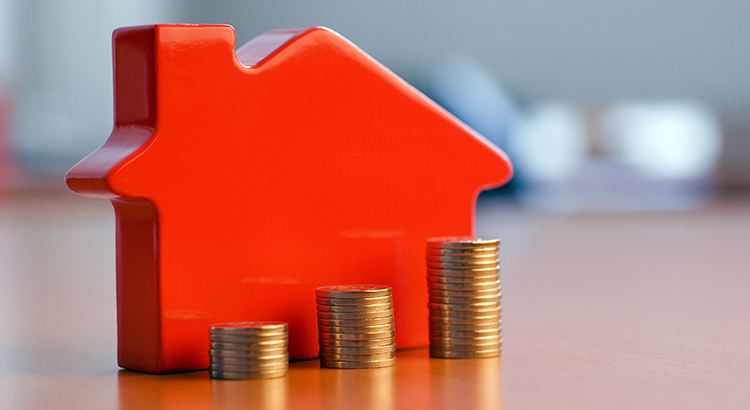 In today's real estate market, mortgage interest rates are near record lows. If you've been in your current home for several years and haven't refinanced lately, there's a good chance you have a mortgage with an interest rate higher than today's average. Here are some options you should consider if you want to take advantage of today's current low rates before they rise.
Sell and Move Up (or Downsize)
Many of today's homeowners are rethinking what they need in a home and redefining what their dream home means. For some, continued remote work is bringing about the need for additional space. For others, moving to a lower cost-of-living area or downsizing may be great options. If you're considering either of these, there may not be a better time to move. Here's why.
The chart below shows average mortgage rates by decade compared to where they are today: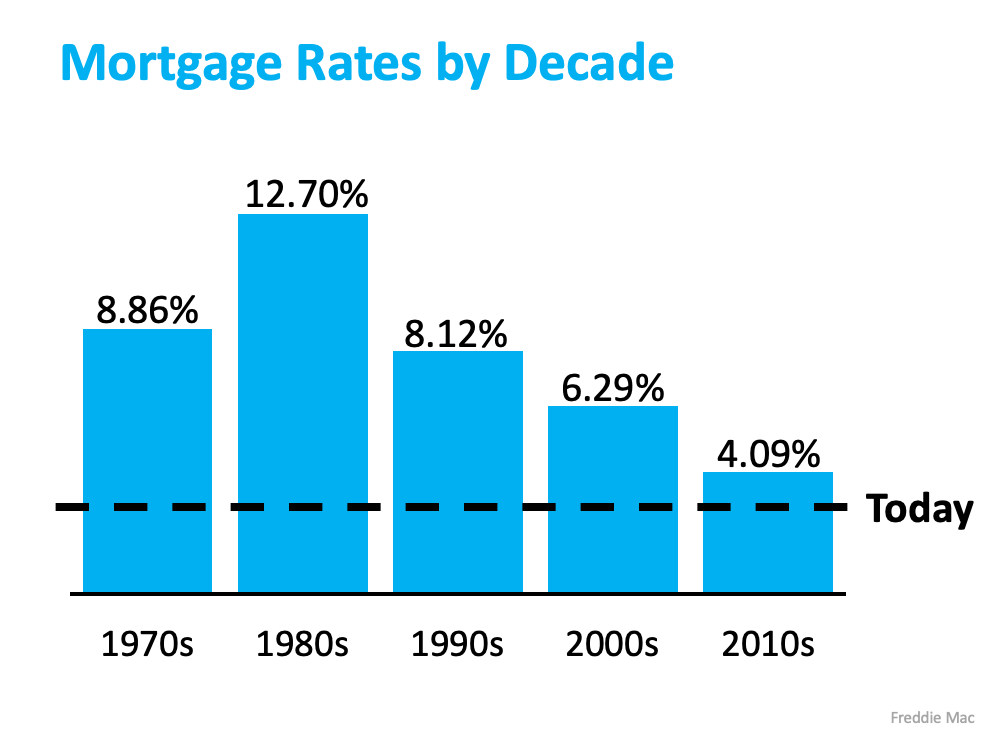 Today's rates are below 3%, but experts forecast rates to rise over the next few years.
If the interest rate on your current mortgage is higher than today's average, take advantage of this opportunity by making a move and securing a lower rate. Lower rates mean you may be able to get more house for your money and still have a lower monthly mortgage payment than you might expect.
Waiting, however, might mean you miss out on this historic opportunity. Below is a chart showing how your monthly payment will change if you buy a home as mortgage rates increase: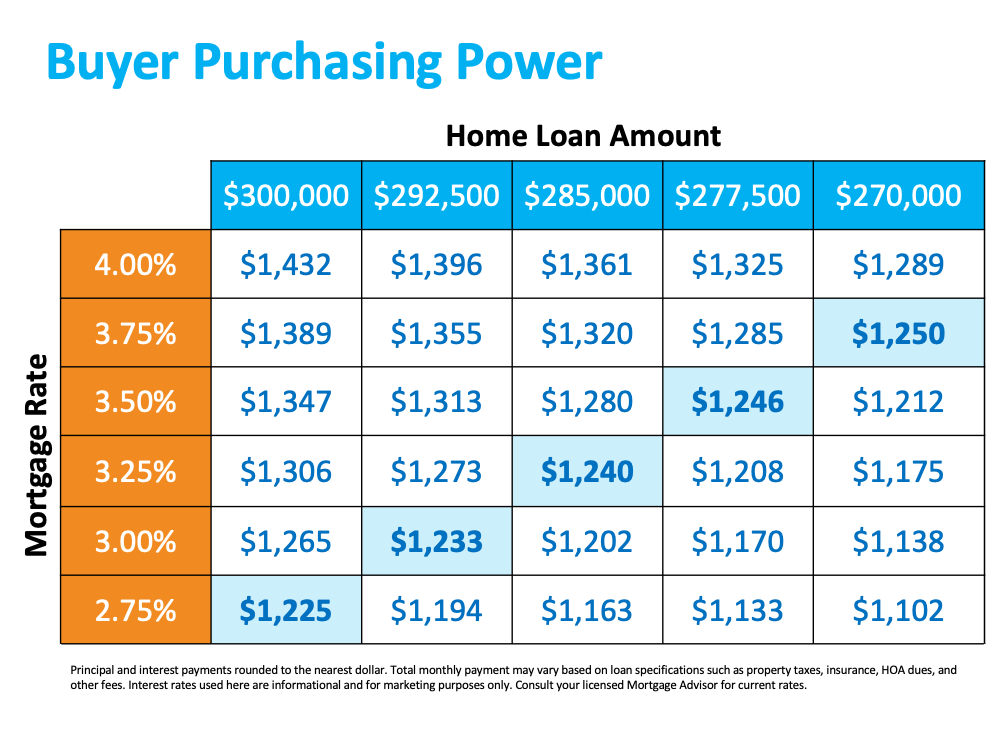 Breaking It All Down:
Using the chart above, let's look at the breakdown of a $300,000 mortgage:
When mortgage rates rise, so does the monthly payment you can secure.
Even the smallest increase in rates can make a difference in your monthly mortgage payment.
As interest rates rise, you'll need to look at a lower-priced home to try and keep the same target monthly payment, meaning you may end up with less home for your money.
No matter what, whether you're looking to make a move up or downsize to a home that better suits your needs, now is the time. Even a small change in interest rates can have a big impact on your purchasing power.
Refinance
If making a move right now still doesn't feel right for you, consider refinancing. With the current low mortgage rates, refinancing is a great option if you're looking to lower your monthly payments and stay in your current home.
Bottom Line
Take advantage of today's low rates before they begin to rise. Whether you're thinking about moving up, downsizing, or refinancing, let's connect today to discuss which option is best for you.
July 12, 2021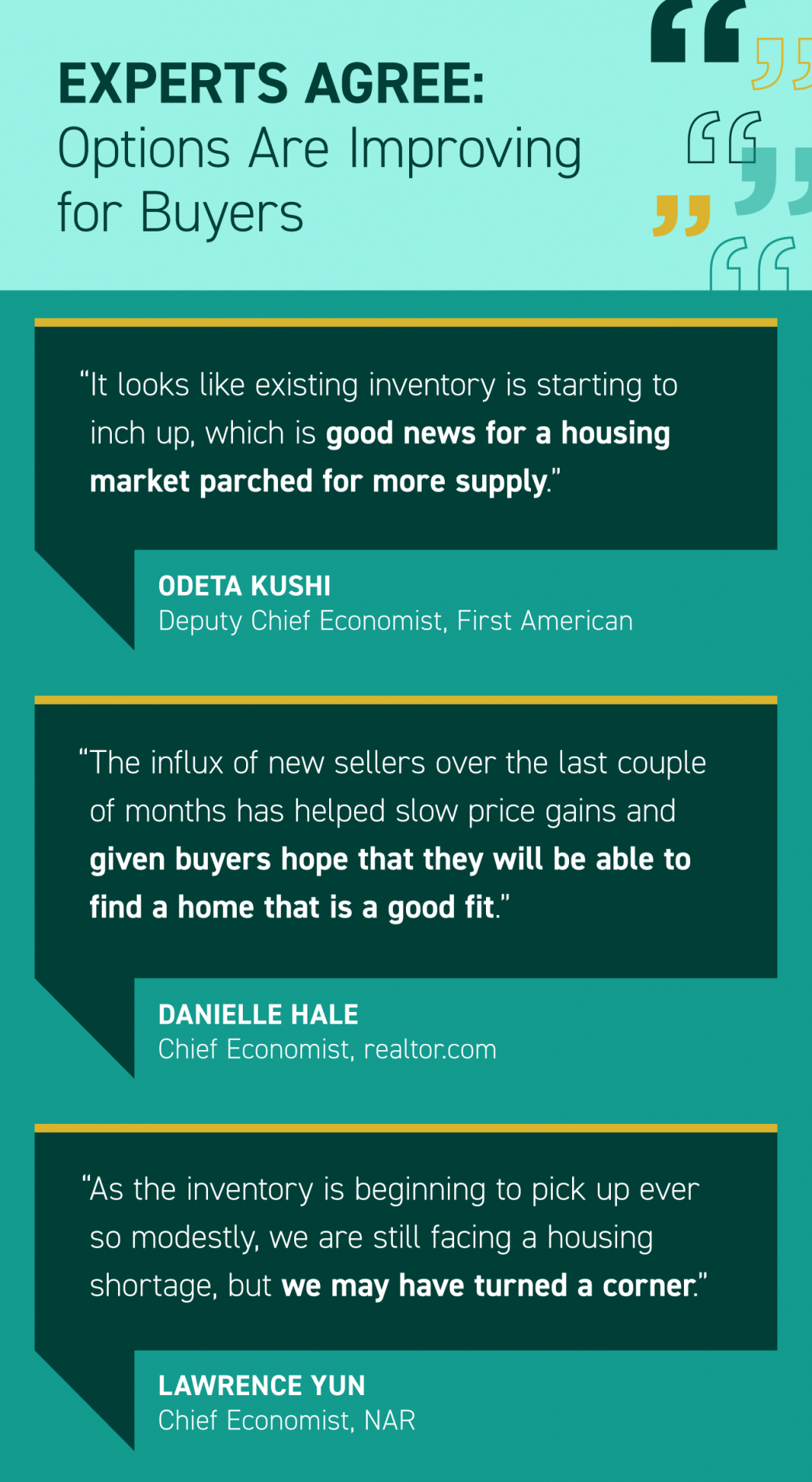 Some Highlights
Buyers hoping for more homes to choose from may be in luck as housing inventory begins to rise. Many experts agree – new sellers listing their homes is great news for buyers and the overall market.
Although the supply increases are modest, more homes means more options for buyers. A rise in inventory may also help slow the price gainswe've seen recently and could be a sign of good things to come.
If you're searching for a home, rising inventory is welcome news. Let's connect today to discuss new listings in our area.
July 5, 2021
4 Major Incentives To Sell This Summer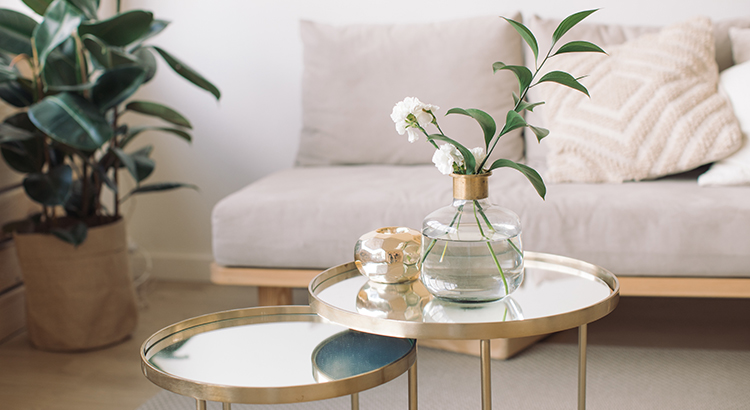 While the housing market forecast for the second half of the year remains positive, there may not be a better time to sell than right now. Here are four things to consider if you're trying to decide if now's the right time to make a move.
1. Your House Will Likely Sell Quickly
According to the most recent Realtors Confidence Index released by the National Association of Realtors (NAR), homes continue to sell quickly. The report notes homes are selling in an average of just 17 days.
Average days on market is a strong indicator of buyer competition, and homes selling quickly is a great sign for sellers. It's one of several factors that indicate buyers are motivated to do what it takes to purchase the home of their dreams.
2. Buyers Are Willing To Compete for Your House
In addition to selling fast, homes are receiving multiple offers. NAR reportssellers are seeing an average of 5 offers, and these offers are competitive ones. Shawn Telford, Chief Appraiser at CoreLogic, said in a recent interview:
"The frequency of buyers being willing to pay more than the market data supports is increasing."
This confirms buyers are ready and willing to enter bidding wars for your home. Receiving several offers on your house means you can select the one that makes the most sense for your situation and financial well-being.
3. When Supply Is Low, Your House Is in the Spotlight
One of the most significant challenges for motivated buyers is the current inventory of homes for sale, which while improving, remains at near-record lows. As NAR details:
"Total housing inventory at the end of May amounted to 1.23 million units, up 7.0% from April's inventory and down 20.6% from one year ago (1.55 million). Unsold inventory sits at a 2.5-month supply at the present sales pace, marginally up from April's 2.4-month supply but down from 4.6-months in May 2020."
There are signs, however, that more homes are coming to market. Odeta Kushi, Deputy Chief Economist at First American, notes:
"It looks like existing inventory is starting to inch up, which is good news for a housing market parched for more supply."
If you're looking to take advantage of buyer demand and get the most attentionfor your house, selling now before more listings come to the market might be your best option.
4. If You're Thinking of Moving Up, Now May Be the Time
Over the past 12 months, homeowners have gained a significant amount of wealth through growing equity. In that same period, homeowners have also spent a considerable amount of time in their homes, and many have decided their house doesn't meet their needs.
If you're not happy with your current home, you can leverage that equity to power your move now. Your equity, plus current low mortgage rates, can help you maximize your purchasing power.
But these near-historic low rates won't last forever. Experts forecast interest rates will increase in the coming months. Nadia Evangelou, Senior Economist and Director of Forecasting at NAR, says:
"Nevertheless, as the economic outlook for the United States looks brighter for the rest of the year, mortgage rates are expected to rise in the following months."
As interest rates rise, even modestly, it could influence buyer demand and your purchasing power. If you've been waiting for the best time to sell to fuel your move up, you likely won't find more favorable conditions than those we're seeing today.
Bottom Line
With supply challenges, low mortgage rates, and extremely motivated buyers, sellers are well-positioned to take advantage of current market conditions right now. If you're thinking about selling, let's connect today to discuss why it makes sense to list your home sooner rather than later.
June 28, 2021
 Housing Supply Is Rising. What Does That Mean for You?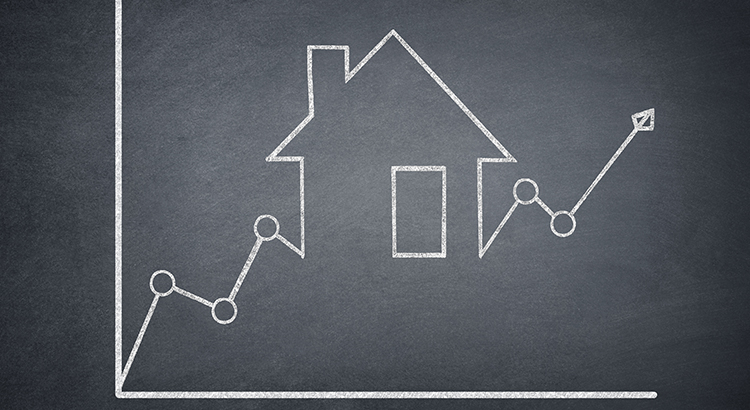 An important factor in today's market is the number of homes for sale. While inventory levels continue to sit near historic lows, there are indications we may have hit the lowest point we'll see. Odeta Kushi, Deputy Chief Economist at First American, recently said of our supply challenges:
"It looks like inventory may have hit a bottom (we've seen this in the higher frequency data as well). Unsold inventory in May was at 2.5 months supply, up from 2.4."
To put it into perspective, the graph below shows levels of inventory rising since the beginning of the year: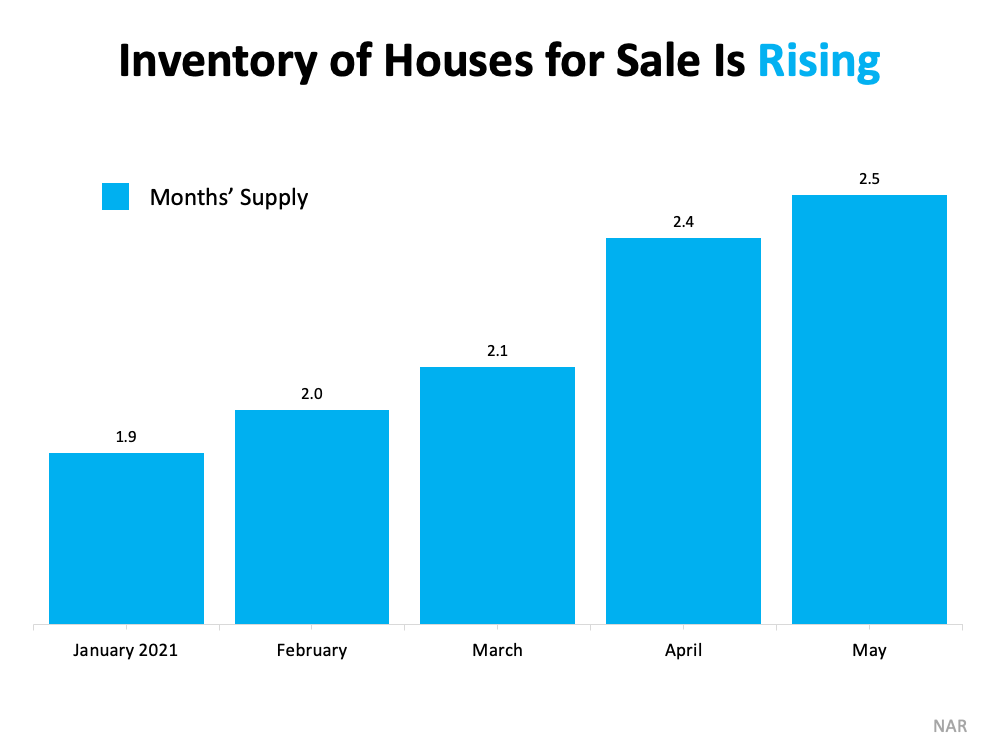 We're still not close to a balanced market, which would be a 6 months' supply of homes for sale. However, we are seeing a slow but steady increase in homes coming up for sale. And that leaves many buyers and sellers wondering the same thing: what does that mean for me?
Buyers: More Options Are Arriving, so It's Time To Act
If you're a buyer, more inventory coming to market is a welcome sight. More supply means more options and less competition, which could mean fewer bidding wars.
According to the latest Monthly Housing Market Trends Report, supply levels are continuing to increase, which is different from the typical summer market:
"In June, newly listed homes grew by 5.5% on a year-over-year basis, and by 10.9% on a month-over-month basis. Typically, fewer newly listed homes appear on the market in the month of June compared to May. This year, growth in new listings is continuing later into the summer season, a welcome sign for a tight housing market."
If you're having trouble finding your next home, this news should give you the hope and motivation to keep your buying process moving forward. Experts project mortgage rates will begin increasing, which will make purchasing a home less affordable as time passes. You can still capitalize on today's low interest rates, so stick with your search as more homes come to market.
Sellers: Our Supply Challenges Aren't Over Yet, so Now Is the Time To Sell
If you've been putting off selling your house, you shouldn't wait much longer. The year's month-over-month gains in homes for sale have helped buyers, but we're still very much in a sellers' market.
As the graph below shows, even with the number of homes for sale rising, we're still well below the supply levels we've seen historically: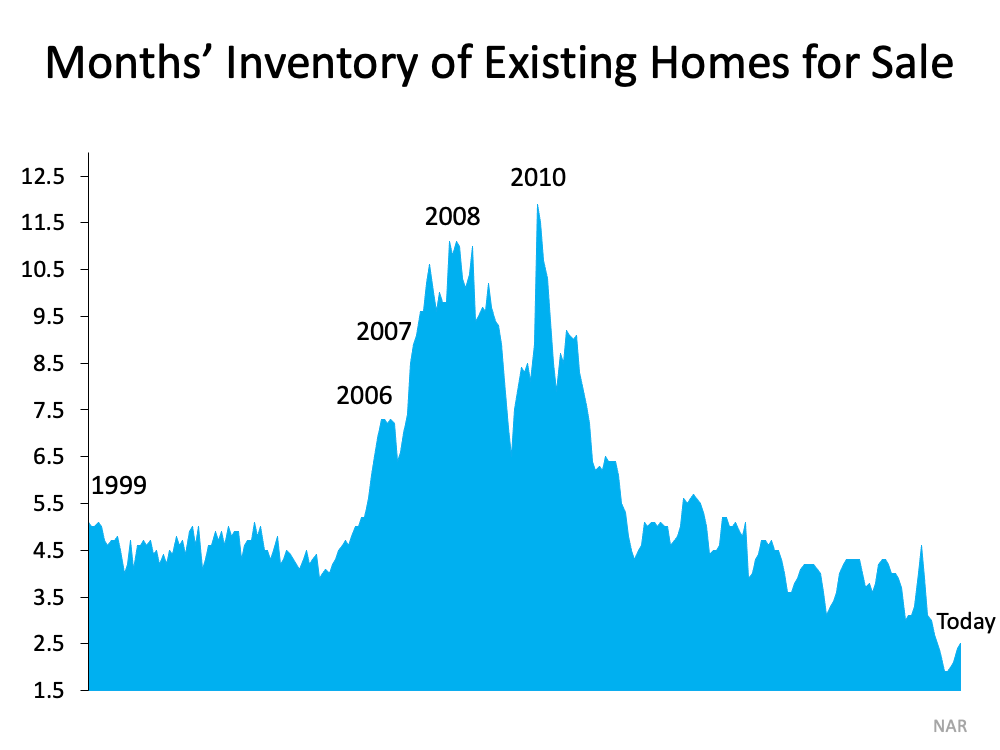 Of course, more homes are coming to market now, and more are expected in the coming months. Selling your house this summer gives you the chance to get ahead of the competition and maximize your sales potential before more homes are put up for sale in your neighborhood.
Bottom Line
More homes for sale means more options for buyers and more competition for sellers. Whether you're looking to buy or sell, let's connect today to discuss your options and why it's still a good time to make your move.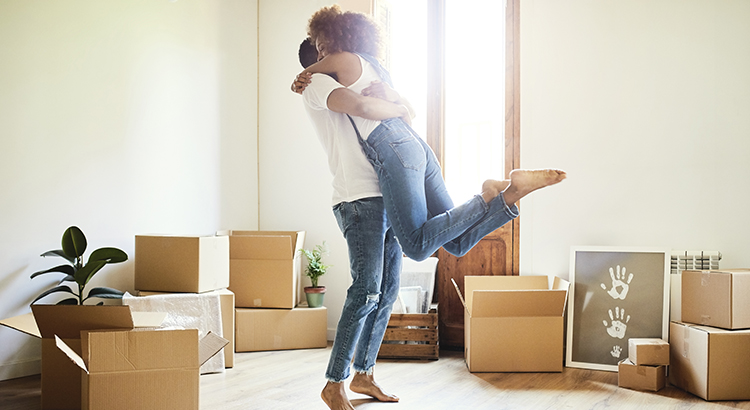 According to many experts, the real estate market is expected to continue growing in 2021, and it's largely driven by the lasting impact the pandemic is having on our lifestyles. As many of us spend extra time at home, we're reevaluating what "home" means and what we may need in one going forward.
Here are 4 reasons people are reconsidering where they live and why they're expecting to buy a home this year. 
1. Record-Low Mortgage Interest Rates
In 2020, the average interest rate for a 30-year fixed mortgage hit a record low 16 times, continuing to fall further below 3%. According to Freddie Mac, the average 30-year fixed interest rate today is 2.65%. Many wonder how low these rates will go and how long they'll last. Len Keifer, Deputy Chief Economist for Freddie Mac, advises:
"If you've found a home that fits your needs at a price you can afford, it might be better to act now rather than wait for future rate declines that may never come and a future that likely holds very tight inventory."
This sense of urgency is driving many to buy this year.
2. Working from Home
Remote work is a new normal for many businesses, and it's lasting longer than most expected. Many in the workforce today are discovering they don't need to live close to the office anymore and they can get more for their money by moving a little further outside of the city limits. David Mele, President at Homes.com, says: 
"The surge in the work-from-home population has rewritten the playbook for many homebuying and rental decisions, from when and where to relocate, to what people are looking for in their next residence."
The reality is, for some people, working remotely in their current home is challenging, especially when there may be other options available.
3. More Outdoor Space
Another new priority for homeowners is having more usable outdoor space. Being at home is driving those in some areas to seek less densely populated neighborhoods so they have more room to stretch their legs. In addition, those living in apartments and townhomes are often looking for extra square footage, both inside and out.
According to the State of Home Spending report by HomeAdvisor, of the households surveyed, almost half reported spending 27% more on outdoor living over the past year. This is a trend that's expected to grow in 2021 and beyond.
4. Avoiding Renovations
It's recently come to light that many homeowners would also rather buy a new home than go through the process of fixing up the one they have. According to the 2020 Profile of Home Buyers and Sellers report from the National Association of Realtors (NAR), 44% of homebuyers purchased a new home to "avoid renovations or problems with the plumbing or electricity."
Depending on what needs to be addressed, today's high buyer demand may make it possible to skip some renovations before selling. Many of these homeowners have prioritized buying over renovating for convenience and potential cost savings.
Bottom Line
It's clear that homeownership needs are changing. As a result, Americans are expected to move in record numbers this year. If you're trying to decide if now is the right time to buy a home, let's connect today to discuss your options.
June 14, 2021
Save Time and Effort by Selling with an Agent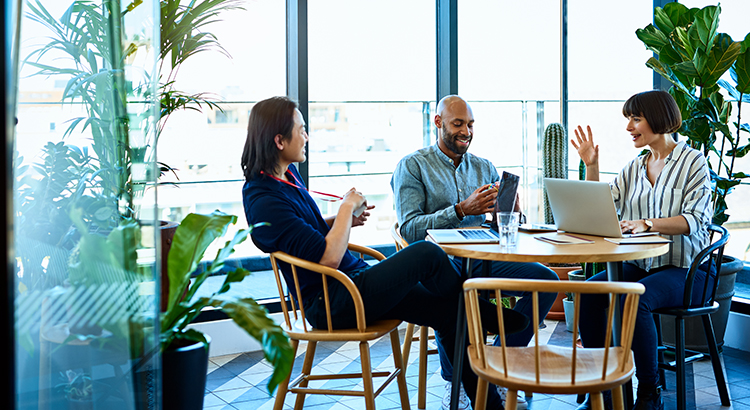 Selling a house is a time-consuming process – especially if you decide to do it on your own, known as a For Sale By Owner (FSBO). From conducting market research to reviewing legal documents, handling negotiations, and more, it's an involved and highly detailed process that requires a lot of expertise to navigate effectively. That's one of the reasons why the percentage of people selling their own house has declined from 19% to 8% (See graph below):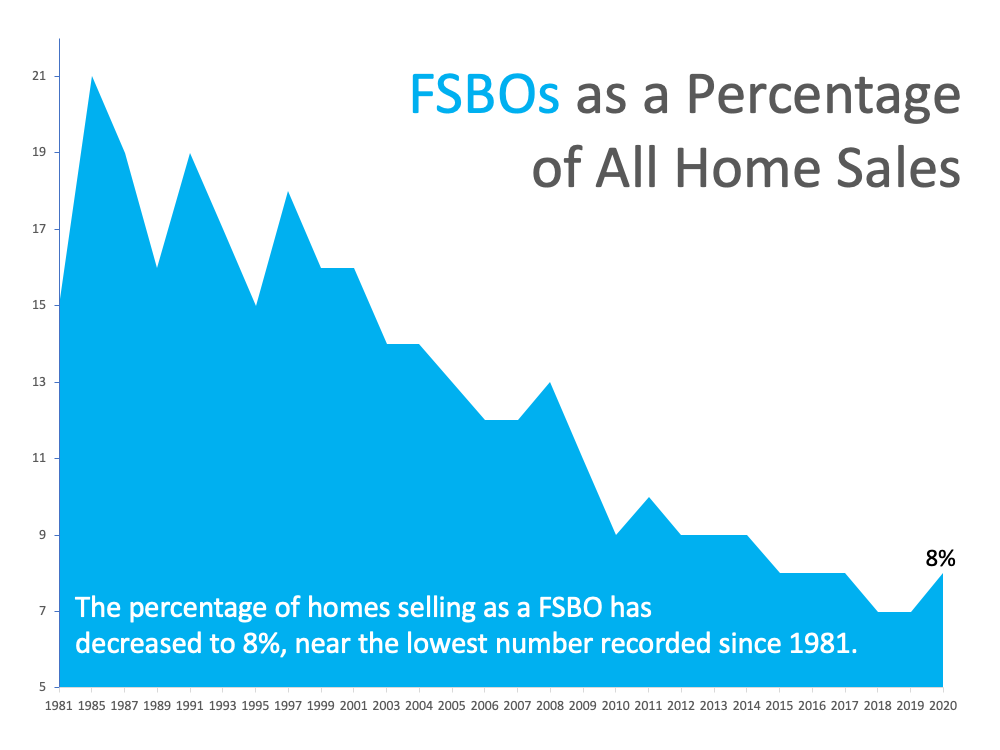 To help you understand just how much time and effort it takes to sell on your own, here's a look at a few of the things you need to think about before putting that "For Sale" sign up in your yard.
1. Making a Good First Impression
While it may sound simple, there are a lot of proven best practices to consider when prepping a house for sale.
Do you need to take down your personal art?
What's the right amount of landscaping to boost your curb appeal?
What wall colors are most appealing to buyers?
If you do this work on your own, you may invest capital and many hours into the wrong things. Your time is money – don't waste it. An agent can help steer you in the right direction based on current market conditions to save you time and effort. Since we're in a hot sellers' market, you don't want to delay listing your house by focusing on things that won't change your bottom line. These market conditions may not last, so lean on an agent to capitalize on today's low inventory while you can.
2. Pricing It Right
Real estate professionals have mission-critical information on what sells and how to maximize your profit. They're experienced when it comes to looking at recent comparable homes that have sold in your area and understanding what price is right for your neighborhood. They use that data to price your house appropriately, maximizing your return.
In a FSBO, you're operating without this expertise, so you'll have to do your own homework on how to set a price that's appropriate for your area and the condition of your home. Even with your own research, you may not find the most up-to-date information and could risk setting a price that's inaccurate or unrealistic. If you price your house too high, you could turn buyers away before they're even in the front door, or run into problems when it comes time for the appraisal.
3. Maximizing Your Buyer Pool (and Profit)
Contrary to popular belief, FSBOs may actually net less profit than sellers who use an agent. One of the factors that can drive profit up is effective exposure. Simply put, real estate professionals can get your house in front of more buyers via their social media followers, agency resources, and proven sales strategies. The more buyers that view a home, the more likely a bidding war becomes. According to the National Association of Realtors (NAR), the average house for sale today gets 5 offers. Using an agent to boost your exposure may help boost your sale price too.
4. Navigating Negotiations
When it comes to selling your house as a FSBO, you'll have to handle all of the negotiations. Here are just a few of the people you'll work with:
The buyer, who wants the best deal possible
The buyer's agent, who will use their expertise to advocate for the buyer
The inspection company, which works for the buyer and will almost always find concerns with the house
The appraiser, who assesses the property's value to protect the lender
As part of their training, agents are taught how to negotiate every aspect of the real estate transaction and how to mediate potential snags that may pop up. When appraisals come in low and in countless other situations, they know what levers to pull, how to address the buyer and seller emotions that come with it, and when to ask for second opinions. Navigating all of this on your own takes time –a lot of it.
5. Juggling Legal Documentation
Speaking of time, consider how much free time you have to review the fine print. Just in terms of documentation, more disclosures and regulations are now mandatory. That means the stack of legal documents you need to handle as the seller is growing. It can be hard to know and truly understand all the terms and requirements. Instead of going at it alone, use an agent as your shield and advisor to help you avoid potential legal missteps.
Bottom Line
Selling your house on your own is a lot of responsibility. It's time consuming and requires an immense amount of effort and expertise. Before you decide to sell your house yourself, let's discuss your options so we can make sure you get the most out of the sale.
June 5, 2021
Demand for Vacation Homes Is Still Strong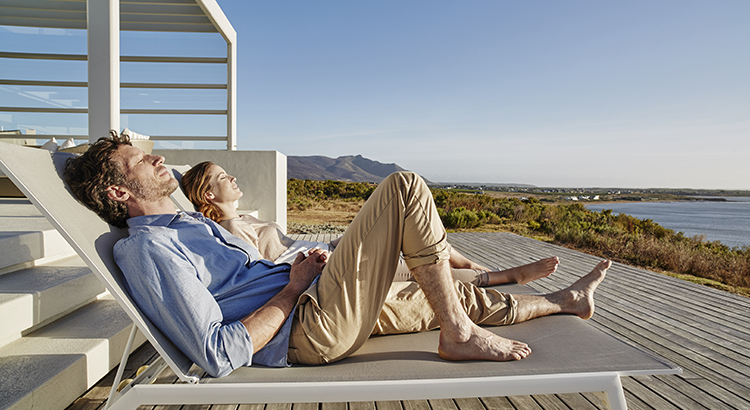 The pandemic created a tremendous interest in vacation homes across the country. Throughout the last year, many people purchased second homes as a safe getaway from the challenges of the health crisis. With many professionals working from home and many students taking classes remotely, it made sense to see a migration away from cities and into counties with more vacation destinations.
The 2021 Vacation Home Counties Report from the National Association of Realtors (NAR) shows that this increase in vacation home sales continues in 2021. The report examines sales in counties where "vacant seasonal, occasional, or recreational use housing account for at least 20% of the housing stock" and compares that data to the overall residential market.
Their findings show:
Vacation home sales rose by 16.4% to 310,600 in 2020, outpacing the 5.6% growth in total existing-home sales.
Vacation home sales are up 57.2% year-over-year during January-April 2021 compared to the 20% year-over-year change in total existing-home sales.
Home prices rose more in vacation home counties – the median existing price rose by 14.2% in vacation home counties, compared to 10.1% in non-vacation home counties.
This coincides with data released by Zelman & Associates on the increase in sales of second homes throughout the country last year.
As the data above shows, there is still high demand for second getaway homes in 2021 even as the pandemic winds down. While we may see a rise in second-home sellers as life returns to normal, ongoing low supply and high demand will continue to provide those sellers with a good return on their investment.
Bottom Line
If you're one of the many people who purchased a vacation home during the pandemic, you're likely wondering what this means for you. If you're considering selling that home as life returns to normal, you have options. There are still plenty of buyers in the market. If, on the other hand, you want to keep your second home, enjoy it! Current market conditions show that it's a good ongoing investment.